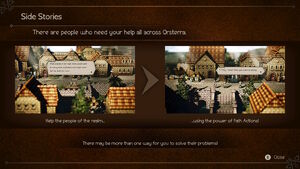 Side Stories are small quests that can be solved using Path Actions or by defeating certain enemies. There are 101 side stories in total.
The first side story available is always Kit, the Traveler, and will take place in the same region as the first traveler chosen by the player.
There are 8 side stories series (one for each region) that take place over three parts. Each series begins at the region's Chapter 1 towns, then to the intermediate towns, and end at the Chapter 4 towns.
Side Stories in the Chapter 1 towns will not be available until the corresponding traveler's Chapter 1 stories are completed.
List of Side Stories
[
]
Name
Client
Path Action
Location
Reward
Information
Kit, the Traveler
Kit
N/A
Northern Flamesgrace Wilds
1,500
Only here if Ophilia is the starting protagonist
Sir Miles, Servant of the Flame (I)
Miles
Inquire
Scrutinize
Flamesgrace
1,500
Nourishing Nut x1
Sir Miles, Servant of the Flame (II)
Challenge
Provoke
Stillsnow
6,600
Nourishing Nut (M) x1
Sir Miles, Servant of the Flame (III)
Purchase
Steal
Northreach
11,000
Ardante Attire

 

Phys. Def +108
Elem. Def +186
Max SP +42 x1
Nourishing Nut (L) x1
The Slumbering Giant
Diligent Student
Inquire
Scrutinize
Flamesgrace
4,500
Calamity Spear

 

Phys. Atk +111
Accuracy -30 x1
Side Story Boss
The Innocent Inmate
Accused Man
Inquire
Scrutinize
Purchase
Steal
Flamesgrace Cathedral Entrance
1,500
Tough Nut
Let There Be Warmth
Ingenious Inventor
Purchase
Steal
Stillsnow
4,800
Nourishing Nut x1
Sharp Nut x1
Setting Out
Pensive Girl
Challenge 
Provoke
Guide
Allure
3,300
Alluring Ribbon

 

Equip: Increases the chance of encountering enemies

x1
Here Be Dragons
Traveling Author
Inquire
Scrutinize
Northreach
11,000
Dragon's Scarf

 

Equip: Restores SP after every action

x1
Heirloom of a High House
Byron the Noble
Inquire
Scrutinize

Purchase
Steal

9,000
Sharp Nut (L) x1
Ogen's Epilogue
Ogen
Purchase
Steal
Northreach
9,000
Double Tomahawk

 

Phys. Atk +95
Accuracy +198
Equip: Regular attacks strike twice x1
Complete Alfyn's Chapter 4
Lianna and Eliza
Lianna
Challenge
Provoke
Flamesgrace Cathedral
11,000
Bishop's Staff

 

Phys. Atk +187
Elem. Atk +352
Equip: Increases Light damage dealt by +30% x1
Complete Ophilia's and H'aanit's Chapter 4
Arianna Again (I)
Arianna
Guide
Allure 
Stillsnow
None
Complete Primrose's and H'aanit's Chapter 4
Arianna Again (II)
Oren
Guide
Allure
Stonegard Valleys
11,000
Adamantine Dagger

 

Phys. Atk +167
Elem. Atk +299
Evasion +98
Equip: Increases Dark damage dealt by +30% x1
Name
Client
Path Action
Location
Reward
Information
Kit, the Traveler
Kit
N/A
East Atlasdam Flats
1,500
Only here if Cyrus is the starting protagonist
In Search of Father (I)
Guide
Allure
Noblecourt
4,500
Only available by completing Kit, the Traveler
Theracio's Tutelage (I)
Theracio
Challenge
Provoke
Atlasdam
1500
Invigorating Nut x 1
Theracio's Tutelage (II)
Purchase
Steal
East Noblecourt
6,600
Invigorating Nut (M) x 1
Theracio's Tutelage (III)
Guide
Allure
Wispermill
11,000
Teacher's Hat

 

Phys. Def +96
Elem. Def +133
Equip: Reduces lightning damage taken x 1
Invigorating Nut (L) x 1
Fit for a King
Capable Culinarian
Purchase
Steal
Atlasdam
1,500
Healing Grape (M) x 2

City of Gold
Passionate Reader
Inquire
Scrutinize
Guide
Allure
Atlasdam Palace Gate
9,000
Alluring Ribbon

 

Equip: Increases the chance of encountering enemies

x 1
The Prodigious Painting
Art Lover
Purchase
Steal
Guide
Allure
Atlasdam Palace
13,000
The Price of Vengeance
Luckless Sellsword
Challenge
Provoke
East Noblecourt
6,500
Veteran's Helm

 

Phys. Def +82
Elem. Def +58
Restores HP x 1
The Gravekeeper's Grief
Old Gravekeeper
Purchase
Steal
Challenge
Provoke
4,500
Gravekeeper's Mark

 

Max SP +50

x 1
Tilting at Windmills
Slender Farmer
Challenge
Provoke
Guide
Allure
Wispermill
22,000
Complete Ophilia's Chapter 4
Scaredy Sheep
Carefree Shepherd
Challenge 
Provoke
Western Wispermill Flats
12,000
Elemental Augmentor

 

Elem. Atk. +100

x 1
Complete Ophilia's Chapter 4
Side Story Boss
Mikk and Makk Make Good
Mikk and Makk
Challenge
Provoke
Noblecourt
11,000
Mikk and Makk's Shield

 

Phys. Def +80
Elem. Def +80
Evasion +178 x 1
Complete Tressa's and Therion's Chapter 4
Name
Client
Path Action
Location
Reward
Information
Kit, the Traveler
Kit
N/A
East Rippletide Coast
1,500
Only here if Tressa is the starting protagonist
In Search of Father (II) 
Purchase
Steal
Moonstruck Coast
9000
Only available by completing In Search of Father (I)
Le Mann, Explorer Extraordinaire (I)
Le Mann
Purchase
Steal
Rippletide
1,500
Fortifying Nut x1
Le Mann, Explorer Extraordinaire (II)
Guide
Allure
Goldshore
6,600
Fortifying Nut (M) x1
Le Mann, Explorer Extraordinaire (III)
Challenge
Provoke
Grandport Markets
11,000
Adventurer's Hat

 

Phys. Def +133
Equip: Reduces light damage taken x1
Fortifying Nut (L) x1
Love Unrequited
Mathilda
Challenge
Provoke
Guide
Allure
Rippletide
1,500
Critical Nut (M) x1
Left Behind
Former Sailor
Guide
Allure
Goldshore
4,500
Elemental Ward

 

Elem. Def. +65

x1
The Merchant's Path 
Merchantry Master
Inquire
Scrutinize
Challenge
Provoke
Goldshore Manor District
11,000
Slippery Nut x1
Light Nut x1
Scourge of the Seas
Fledgling Fisherman
Purchase
Steal
7,000
Leviathan Shield

 

Phys. Def +110
Evasion -79
Equip: Reduces ice damage taken x1
Side Story Boss
An Exotic Aroma
Woman from Quaragosa
Purchase
Steal
Guide
Allure
Grandport Markets
11,000
Revitalizing Jam x1
Princess Mary, Redux
Princess Mary
Guide
Allure
Rippletide
9,000
Absolute Zero Staff

 

Phys. Atk +132
Elem. Atk +293
Equip: Increases Ice damage dealt by +30% x1
Complete Cyrus's Chapter 4
The Diarist's Desire
Ing
Purchase
Steal
Grandport Markets
6500
Alluring Ribbon

 

Equip: Increases the chance of encountering enemies

x1
Complete Tressa's Chapter 4
Keeping Up with the Wyndhams
Cordelia Ravus
Challenge
Provoke
Grandport
12,000
Blessed Blazon

 

Phys. Def. +100
Elem Def. +100 x1
Complete Tressa's and Therion's Chapter 4
Name
Client
Path Action
Location
Reward
Information
Kit, the Traveler
Kit
N/A
South Cobbleston Gap
1,500
Only here if Olberic is the starting protagonist
At Journey's End
Impresario
Ruins of Hornburg
100,000
Spurning Ribbon

 

Equip: Wards off all enemy encounters

Only available by completing Alphas and the Impresario
Noelle, Seeker of Knowledge (I)
Noelle
Guide
Allure
Cobbleston
4,800
Tough Nut x 1
Noelle, Seeker of Knowledge (II)
Inquire
Scrutinize
Stonegard Heights
6,600
Tough Nut (M) x 1
Noelle, Seeker of Knowledge (III)
Purchase
Steal
Everhold
11,000
Historian's Hat

 

Phys. Def +82
Elem. Def +134
Restores SP x 1
Tough Nut (L) x 1
Fertile Fields
Kindly Farmer
Purchase
Steal
Cobbleston
1,500
Inspiriting Plum (M)
Never Forget
Melancholy Youth
Purchase
Steal
Guide
Allure
9,000
Sharp Nut (M) x1
Up to No Good
Elderly Shopowner
Challenge
Provoke
Guide
Allure
Stonegard Valleys
5,000
Guardian Amulet

 

Phys. Def. +65

x1
Lost in Translation
Bookbinder
Guide
Allure
Stonegard Heights
6,500
Exotic Garb

 

Phys. Def +102
Elem. Def +121
Restores SP x1
A Royal Secret
Inquiring Youth
Inquire
Scrutinize
Guide
Allure
5,000
Royal Crest

 

Max HP +600

x1
Star of the Stage
Impresario
Challenge
Provoke
Everhold
15,000
Revitalizing Jam x1
Performance Art
Ardent Actor
Purchase
Steal
Inquire
Scrutinize
22,000
Russell's Repentance
Russell
Inquire
Scrutinize
Stonegard
9000
Confessional Armor

 

Phys. Def +212
Equip: Reduces ice damage taken
Complete Cyrus' Chapter 4
Name
Client
Path Action
Location
Reward
Information
Kit, the Traveler
Kit
N/A
Southern Sunshade Sands
1,500
Only here if Primrose is the starting protagonist
Ria, Born to Roam (I)
Ria
Challenge
Provoke
Sunshade
1,500
Magic Nut x1
Ria, Born to Roam (II)
Purchase
Steal
Wellspring
6,000
Magic Nut (M) x1
Ria, Born to Roam (III)
Inquire
Scrutinize
Marsalim
11,000
Magic Nut (L) x1
Her Time to Shine
Blue Dancer
Purchase
Steal
Guide
Allure
Sunshade
1,500
Wind Amulet

 

Equip: Reduces wind damage taken

x1
The Bouncer
Hired Barkeep
Challenge
Provoke
Sunshade Tavern
1,500
Fortifying Nut x1
Shadow over the Sands
Staid Soldier
Inquire
Scrutinize
Wellspring
8,000
Transcendent Bow of Shadows

 

Phys. Atk +306
Elem. Atk +245
Attack: Occasionally confuses target x1
Side Story Boss
In Search of Sweets
Sweet Tooth
Purchase
Steal
4,500
Gourmet's Charm

 

Equip: Slightly reduces ice and wind damage taken

x1
In Search of the Unknown
Old Aristocrat
Purchase
Steal
Challenge
Provoke
Marsalim
11,000
Alluring Ribbon

 

Equip: Increases the chance of encountering enemies

x1
The Prisoner's Plea
Kevin
Inquire
Scrutinize
Marsalim Palace
300
Revitalizing Jam x1
The Adventures of Ali
Ali
Guide
Allure
Sunshade
9,000
Tradewinds Spear

 

Phys. Atk +150
Elem. Atk +380
Equip: Increases Wind damage dealt by +30% x1
Complete Tressa's Chapter 4
Back with Bale
Bale
Inquire
Scrutinize
Wellspring
9,000
Captain's Badge

 

Equip: Grants additional EXP

x1
Complete Ophilia's and Olberic's Chapter 4
King Khalim's Conundrum
King Khalim
Guide
Allure
Marsalim Palace
30,000
Complete all travelers' Chapter 4
Name
Client
Path Action
Location
Reward
Information
Kit, the Traveler
Kit
N/A
West Clearbrook Traverse
1,500
Only here if Alfyn is the starting protagonist
Daughter of the Dark God (II)
Alphas
Inquire
Scrutinize
Saintsbridge
10,000
Only available by completing Daughter of the Dark God (I)
Meryl, Lost then Found (I)
Meryl
Inquire
Scrutinize
Clearbrook
1,500
Resistant Nut x1
Meryl, Lost then Found (II)
Challenge
Provoke
Saintsbridge
6,600
Resistant Nut (M) x1
Meryl, Lost then Found (III)
Guide
Allure
Lower Riverford
11,000
High House's Armor

 

Phys. Def +158
Elem. Def +78
Equip: Reduces fire damage taken x1
Resistant Nut (L) x1
For Want of Fish
Angler
Purchase
Steal
Challenge
Provoke
Clearbrook
1,500
Mighty Belt

 

Phys. Atk. +50

A Sweet Reunion
Lost Grandfather
Guide
Allure
South Clearbrook Traverse
3,000
A Corpse with No Name
River Dweller
Guide
Allure
Purchase
Steal
East Saintsbridge Traverse
5,000
Gentleman's Charm

 

Equip: Slightly reduces lightning and dark damage taken

x1
The Worrywart
Worrywart
Inquire
Scrutinize
Saintsbridge
6,600
Invigorating Nut x1
Resistant Nut x1
The Pilgrims' Plight
Kindly Cleric
Challenge
Provoke
Saintsbridge Cathedral
6,600
Refreshing Jam x1
The Hidden Hoard
Passionate Youth
Purchase
Steal
Inquire
Scrutinize
Riverford
15,000
Revitalizing Jam x1
Complete Ophilia's Chapter 4
The Adventuring Life
Servant
Guide
Allure
Challenge
Provoke
11,000
Critical Nut (L) x1
Friends Again
Nate
Purchase
Steal
Saintsbridge
Badge of Friendship

 

Equip: Grants additional JP

x1
Complete Ophilia's Chapter 4.
Hello Again, Harald
Reggie
Purchase
Steal
Riverford
8,000
Harald's Sword

 

Phys. Atk +380
Elem. Atk +120
Equip: Increases Fire damage dealt by +30% x1
Complete Olberic's Chapter 4
Zeph and Mercedes (I)
Nina
Purchase
Steal
Clearbrook
None
Complete Cyrus' and Alfyn's Chapter 4
Zeph and Mercedes (II)
Mercedes
Purchase
Steal
Atlasdam Palace Gate
11,000
Memorial Axe

 

Phys. Atk +400
Speed +150
Attack: Occasionally decreases target's Elem. Def. x1
Name
Client
Path Action
Location
Reward
Information
Kit, the Traveler
Kit
N/A
North Bolderfall Pass
1,500
Only here if Therion is the starting protagonist
Daughter of the Dark God (I)
Alphas
Challenge
Provoke
Ravus Manor Gate
5,000
Kaia, Mother of Dragons (I)
Kaia
Inquire
Scrutinize
Bolderfall
1,500
Light Nut x1
Kaia, Mother of Dragons (II)
Guide
Allure
Quarrycrest
6,600
Light Nut (M) x1
Kaia, Mother of Dragons (III)
Challenge
Provoke
Orewell
11,000
Robe of the Dragon Princess

 

Phys. Def +121
Elem. Def +132
Critical +129 x1
Light Nut (L) x1
Sparks of Revolution
Stern Guardsman
Inquire
Scrutinize
Purchase
Steal
Bolderfall
2,000
The Bandits' Code
Veteran Brigand
Guide
Allure
Inquire
Scrutinize
Lower Bolderfall
2,400
Blazon of Protection

 

Phys. Def. +30
Elem Def. +30 x1
The Weaver's Predicament
Gendy
Inquire
Scrutinize
Purchase
Steal
Quarrycrest
6,500
Weaver's Charm

 

Equip: Slightly reduces fire and light damage taken

x1
A Miner Dilemma
Miner
Purchase
Steal
Quarrycrest Mines
9,000
Sharp Nut x 1
Critical Nut x 1
On the Precipice
Struggling Merchant
Challenge
Provoke
Inquire
Scrutinize
Orewell
11,000
Refreshing Jam x1
The Wayward Son
Miserable Mother
Guide
Allure
9,000
Olive of Life (L) x1
Heathcote's High Jinks
Heathcote
Guide
Allure
Ravus Manor Gate
12,000
Heathcote's Dagger

 

Phys. Atk +199
Elem. Atk +346
Equip: Increases Fire damage dealt by +30% x1
Complete Therion's Chapter 4
Revello and Odette
Revello
Inquire
Scrutinize
Quarrycrest
9,000
Revello's Helm

 

Phys. Def +108
Elem. Def +78
Equip: Reduces dark damage taken x1
Complete Primrose's and Cyrus' Chapter 4
Name
Client
Path Action
Location
Reward
Information
Kit, the Traveler
Kit
N/A
North S'warkii Trail
1,500
Only here if H'aanit is the starting protagonist
Ashlan the Beastmaster (I)
Ashlan
Inquire
Scrutinize
S'warkii
1,500
Slippery Nut x1
Ashlan the Beastmaster (II)
Purchase
Steal
Victors Hollow: Arena Gate
6,600
Slippery Nut (M) x1
Ashlan the Beastmaster (III)
Guide
Allure
Duskbarrow
11,000
Monster Trainer's Hat

 

Phys. Def +115
Elem. Def +115
Equip: Reduces wind damage taken x1
Slippery Nut (M) x1
Rite of Passage
Aspiring Hunter
Inquire
Scrutinize
Purchase
Steal
S'warkii
1,500
Refreshing Jam x1
Way Through the Woods
Genteel Madam
Guide
Allure
1,500
Magic Nut x1
Critical Nut x1
Into Thin Air
Laconic Father
Guide
Allure
Victors Hollow
9,000
Deathly Blade

 

Phys. Atk +219
Accuracy +98
Attack: Occasionally kills target instantly x1
Side Story Boss
Arena Aspirations
Listless Gladiator
Inquire
Scrutinize
Challenge
Provoke
4,800
Refreshing Jam x1
A Promising Venture
Gambler
Inquire
Scrutinize
Victors Hollow: Arena Gate
4,800
Healing Grape Bunch x3
A Cub with No Name
Fearful Mother
Inquire
Scrutinize
Guide
Allure
Duskbarrow
7,000
Beastly Scarf

 

Equip: Restores HP after every action

x1
Looting Grave Robber
Obliging Merchant
Challenge
Provoke
4000
Energizing Pomegranate (L) x1
Again with Alaic
Alaic
Guide
Allure
Victors Hollow
9,000
Primeval Bow of Storms

 

Phys. Atk +241
Elem. Atk +342
Equip: Increases Wind damage dealt by +30% x1
Complete H'aanit's Chapter 4
Alphas and the Impresario
Impresario
N/A
West S'warkii Trail
10,000
Only available by completing In Search of Father (II), Daughter of the Dark God (II), and all travelers' Chapter 4