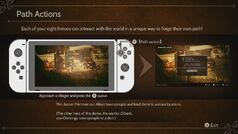 Path Actions are unique actions that each playable character has that can be used on the world map.
Noble and Rogue Path Actions
[
]
Path actions can be categorized into Noble and Rogue actions. Noble path actions can be performed without penalty but can only be performed with high enough level. Conversely, Rogue actions can be performed regardless of level, but only have a percent chance of succeeding, which if failed will hurt your reputation in town.
List of NPCs That Increase Path Action
[
]
Notes:
Scrutinize / Inquire skill up based on your level. There are no knowledge based skill ups for these.
Increase only affects the immediate town.
In Octopath Traveler: Champions of the Continent, every traveler is able to Inquire, but it can only done when the influence rank matches the NPCs' ones. When Inquiring, the following can be done:
| Action | Definition |
| --- | --- |
| File:Path Action Items.png Obtain Posessions | Negotiate to obtain item they might have, including valuable accessories |
| Recruit Allies | Negotiate to have them follow you so that you can summon them in battle |
| Learn Information | Occasionally glean information on your surrounding |
The way of negotiating with the NPCs change depending of their type of influence.
Influence Type
Actions Available
Wealth
Negotiate with leaves
*Haggling success depend of Wealth Rank
Power
Negotiate through battle
Fame
Negotiate through probabilities
*Success depend of Fame Rank
Like in it's predecessor, failing in negotiating a number of times will hurt your
Reputation
.