Jobs define the skills and weapons a character is able to use, and thus also defines the character's playstyle. Each job is associated with one of the gods of Orsterra.
There are 8 starting jobs and 4 advanced jobs for a total of 12 available jobs.
Starting Jobs
Advanced Jobs
Each Traveler has a job associated with their character which cannot be changed. By finding hidden shrines across Orsterra and examining the altars within, Travelers unlock the ability to equip a secondary job.
To unlock the hidden jobs, the travelers must also prove their worth by defeating the job's guardian god.
Secondary Job
Edit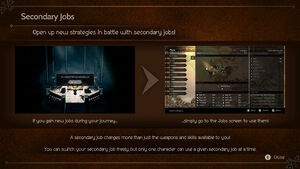 Equipping a secondary-job will have the following effects:
Change the traveler's in-battle sprite to wear the attire of the secondary-job (overworld will still retain the primary job's attire).
Allow the traveler access to the secondary job's weapons, skills, support skills
Increase the traveler's stats
Only one traveler may take up the same secondary job at one time.
Travelers will not be able to utilize an equipped secondary job's corresponding Path Action or Talent, as those are traveler-specific rather than job-specific.
Stat Bonuses
Edit
Community content is available under
CC-BY-SA
unless otherwise noted.